Belgrade Dance Festival 2009
|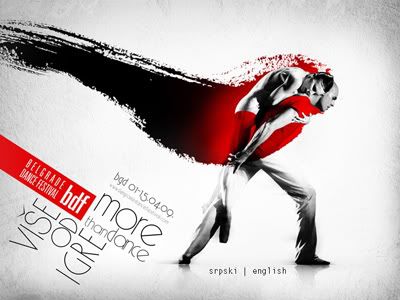 Event:

Belgrade Dance Festival
Website:
www.belgradedancefestival.com
Belgrade dance festival opened yesterday in Sava Centar, starting april 1st 'till April 15th, Belgrade will host dance troups from Italy, France, Israel, United Kingdom, Slovenia, China, United States, Switzerlan and Holland, which are planed to make 14 performances.
————
Dogadjaj:

Beogradski Festival Igre
Web Stranica:
www.belgradedancefestival.com
Juče otvoreni Beogradski festival igre trajaće do 15. Aprila, Beograd je domaćin trupama iz Italije, Francuske, Izraela, SAD, UK, Slovenije, Kini, Švajcarske i Holadnije, za koje je planirano 14 nastupa tokom festivala.