Underworld in Belgrade
|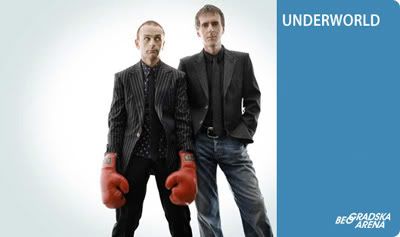 Location: Arena, Belgrade
Time: 10 November 2009. – 20:00h
Website: www.arenabeograd.com
UNDERWORLD, popular techno band, will perform in Belgrade for the first time on November 10th! In these days of endless band reformations, avalanches of reissues and shamelessly repetitious 'creativity', too many artists are willing to sign away their soul for a little extra time on the career clock.
Vreme: 10 November 2009. – 20:00h
Web stranica: www.arenabeograd.com
UNDERWORLD, najuticajniji elektronski bend današnjice, nastupiće po prvi put u Beogradu 10. novembra u Beogradskoj areni u organizaciji Avalon Produkcije, kompanije HMK i Arene Beograd. Neverovatnih 27 godina od kad su se pojavili kao trio u Romfordu (Eseks) i 15 godina od kad su izdali prvi singl (500 primeraka, "Mother Earth/The Hump"), Rik Smit i Karl Hajd i dan danas uživaju u nastupima pred publikom.