Emporio Armani Store Belgrade
|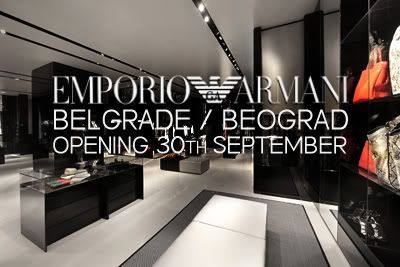 Emporio Armani Store Belgrade
Terazie 28
Website: www.emporioarmani.com
Giorgio Armani has announced opening of their first store in Serbia, the store will be located in Terazije 28 Street, the official opening will happen on Thursday September 30th.

You can read the full press release both in English and Serbian after the jump:
Giorgio Armani is pleased to announce the opening of the Emporio Armani store in Belgrade, Serbia. The store will be located in Terazije 28 Street and will cover 270 square metres on street level. The official opening will happen on Thursday, September 30th. The interior of the store is carefully imagined and designed by Giorgio Armani and his team of architects.

The ceiling is in light marmorino, while flooring is made of bright, glossy stone giving the location striking, glamorous appearance. A big screen projecting the current collection dominates entering the store while large backlit advertising images characterise the interior. A big accessories area at the entrance creates a luxurious but the private room at the same time. Accessories take place into glass boxes with bronze silky fabric as background. Wall coverings alternate between black glass and bronze panelling throughout the store.

Much more than a fashion store, the store embodies Giorgio Armani's vision of the modern casual lifestyle that Emporio Armani really represents. The store offers the complete Emporio Armani womenswear and menswear collections for including formal and casual wear, accessories, watches, eyewear, jewellery, swimwear, underwear, Armani Jeans both men's and women's and also sportswear EA7, for men and women, which developed together with Reebok.
———————————————————————–

Kompanija Giorgio Armani sa zadovoljstvom najavljuje otvaranje prve Emporio Armani radnje u Beogradu i Srbiji. Radnja će biti smeštena na Terazijama 28 i prostiraće se na preko 270 metara kvadratnih prostora prizemnog nivoa, a zvanično će biti otvorena u četvrtak, 30. septembra. Enterijer ovog prestižnog modnog objekta pažljivo je osmišljen i dizajniran od strane Đorđa Armanija i njegovog tima arhitekata.
Plafon je od belog marmorina, dok je pod napravljen od svetlog, sjajnog kamena dajući prostoru glamurozan izgled. Na ulazu u radnju dominira veliki ekran na kome se prikazuje nova kolekcija, dok pozadinski prosvetljene velike reklamne fotografije ukrašavaju enterijer. Veliki odeljak za modne dodatke u ulaznoj zoni ukazuje na luksuzan prostor koji ujedno odaje utisak privatnosti. Modni dodaci su izloženi u staklenim kutijama sa pozadinom od svilene tkanine u boji bronze.
Na zidovima se naizmenično smenjuju crno staklo i tkanina u boji bronze duž cele radnje.

Mnogo više od prodajnog prostora, dizajn nove radnje je oličenje vizije Đorđa Armanija o modernom svakodnevnom životnom stilu, koji on zaista predstavlja. Radnja nudi kompletnu Emporio Armani kolekciju za žene i muškarce, koja uključuje formalnu i svakodnevnu odeću, modne dodatke, satove, naočare, nakit, donji veš i kupaće kostime, Armani Jeans – za žene i muškarce, kao i sportsku liniju EA7, za žene i muškarce, koja je razvijena u saradnji sa Reebokom.