Natasa, Djurdja and Mina for V61
|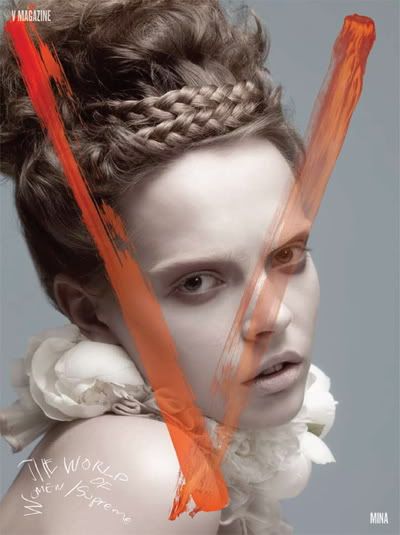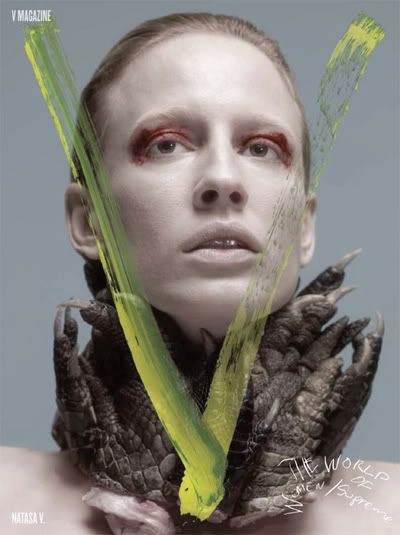 Magazine: V Magazine
Issue: #61
Cover Models: Alana Zimmer, Alla Kostromicheva, Behati Prinsloo, Christina Kruse, Daiane Conterato, Darya Kurovska, Georgina Stojiljkovic, Hanne Gaby Odiele, Hannelore Knuts, Iris Strubegger, Isabeli Fontana, Meghan Collison, Mina Cvetkovic, Natasa Vojnovic, Ranya Mordanova, Rose Cordero, Suvi Koponen, Valentina Zelyaeva, and Yulia Kharlapanova
Photography by Paul Rowland
It's a pagan festival at Supreme for September! With shows right around the corner, Paul Rowland took to the camera to shoot 19 incredible girls from the "World of Women & Supreme" for a special edition of V Magazine that will be sold with V61 later this month. The covers were shot the week of April 13th in New York at Pier 59 Studios and feature styling by Nicholas Grasa, makeup by Janeen Witherspoon, and hair by Rita Marmor, Leonardo Manetti for ION Studio, and Franco Gobbi for Bumble & Bumble.
Be sure to checkout this genius video shot backstage at the shoot by Augusto Araujo, for Copy Cat Productions, to see the girls of Women and Supreme in action. Preview rest of the covers at Design Scene blog.
———————————

Magazin: V Magazine
Izdanje: #61
Cover Modeli: Alana Zimmer, Alla Kostromicheva, Behati Prinsloo, Christina Kruse, Daiane Conterato, Darya Kurovska, Georgina Stojiljkovic, Hanne Gaby Odiele, Hannelore Knuts, Iris Strubegger, Isabeli Fontana, Meghan Collison, Mina Cvetkovic, Natasa Vojnovic, Ranya Mordanova, Rose Cordero, Suvi Koponen, Valentina Zelyaeva, and Yulia Kharlapanova
Photography by Paul Rowland
Website: www.vmagazine.com
Paganski Supreme festival u Septembru! Sa revijama odmah iza ugla, Paul Rowland je fotografisao 19 neverovatnih devojaka iz "Sveta Womena & Supreme" za specijalno izdanje V Magazina koje će se prodavati uz V61 od 1. Septembra. Naslovnice su snimljene u New Yorku druge nedelje Aprila u Pier 59 Studiu sa stilistom Nicholas Grasa-om.

Tri od 19 devojaka su nama veoma poznate Nataša Vojnović, Djurdja Stojiljković i Mina Cvetković, kliknite ispod za genijalni video sa snimanja, pogledajte naslovnice ostalih devojaka na Design Scene blogu.

http://vimeo.com/moogaloop.swf?clip_id=6187403&server=vimeo.com&show_title=1&show_byline=1&show_portrait=0&color=&fullscreen=1