Natasa Vojnovic and Alek Wek for i-D
|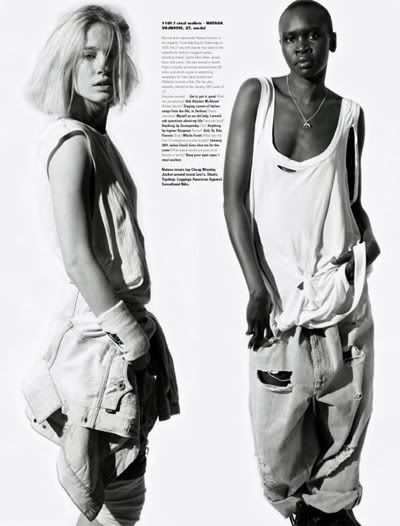 Magazine:

i-D
Published:

June 2009
Models

Natasa Vojnovic and Alek Wek
Super model Natasa Vojnovic in the latest issue of i-D magazine is part of
i-D mix
, legendary models pair up with newcomewers on the rise wearing only blue jeans and white Ts. Natasa is paired with Alek Wek.
——————-
Magazin:

i-D
Izdanje:

June 2009
Modeli

Nataša Vojnović and Alek Wek
Supermodel Nataša Vojnović u najnovijem izdanju i-D magazina je deo i-D mix-a, u kome legendarni modeli u paru sa novim licima učestvuju u
white Tshirts i blue jeans
photo shoot-u.
*Photo credit: models.com